Endpoints
While Semantic layer models are created once, each model can be deployed to any, or all, of the following endpoints.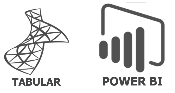 SQL Server Analysis Service Tabular, which uses the same in-memory analytics engine as PowerBI, making it the ideal location for data models when using Power BI as your front end solution.


The Tableau Endpoint generates a Tableau Data Source (.tds) file. This file includes all the necessary fields and relations enabling users to immediately begin developing powerful dashboards in Tableau Desktop, or upload the data source to Tableau Server or Tableau Online.

Qlik models can be deployed directly to QlikView, QlikSense Desktop or QlikSense Server. Complete with all the scripts necessary to generate QVDs and create a complete data model, Qlik users can easily create dashboards on complex data without having to write any Qlik script.