In this training we will be using the sample transactional database known as "AdventureWorks 2014". This database is provided by Microsoft and is free to download.
Instructions for downloading and mounting the AdventureWorks Dataset:
Follow the link: Microsoft AdventureWorks Sample Databases on CodePlex.
Select the "Download AdventureWorks Databases - 2014" link to begin the download.
Unzip the database (mdf) file and log (ldf) file in a known location.
Open Microsoft SQL Server Management Studio, The "Connect to Server" dialog will open. Click Connect.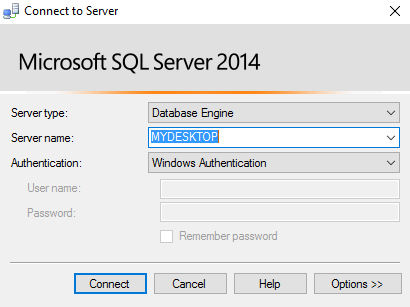 Right click Databases.
Click Attach.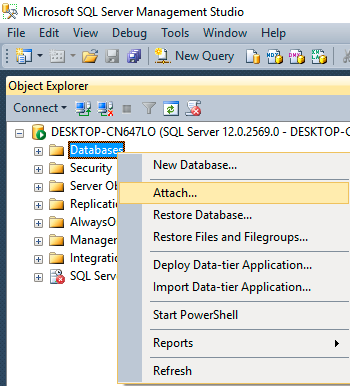 Click the Add button.
Locate the AdventureWorks database mdf file (AdventureWorks2014_Data.mdf) where you unzipped it.
Click the OK button on the Locate Database Files dialog window.
Click the OK button on the Attach Databases dialog window to attach the database.
More info on attaching databases in SQL Server: https://docs.microsoft.com/en-us/sql/relational-da...